Dermatology
Churg Strauss vasculitis (Churg Strauss granulomatosis (CSG); Churg Strauss syndrome; Allergic granulomatosis; ANCA-associated vasculitis)
Churg Strauss Vasculitis (CDV); Churg Strauss granulomatosis (CSG); Churg Strauss syndrome; Allergic granulomatosis; ANCA-associated vasculitis [ ICD-9-CM 686.1 ]
Are You Confident of the Diagnosis?
What you should be alert for in the history
Most often patients have an antecedent history of asthma and/or severe allergic rhinitis with elevated eosinophil counts. Skin lesions may present as palpable purpura, papules on the extensor extremities, persistent urticarial lesions, livedo, nodules or ulceration (Figure 1). Skin lesions most often present after or simultaneously with systemic symptoms or signs. Approximately 50% of CGV patients have skin lesions at some point.
Figure 1.
Papular lesion with ulceration in Churg Strauss vasculitis.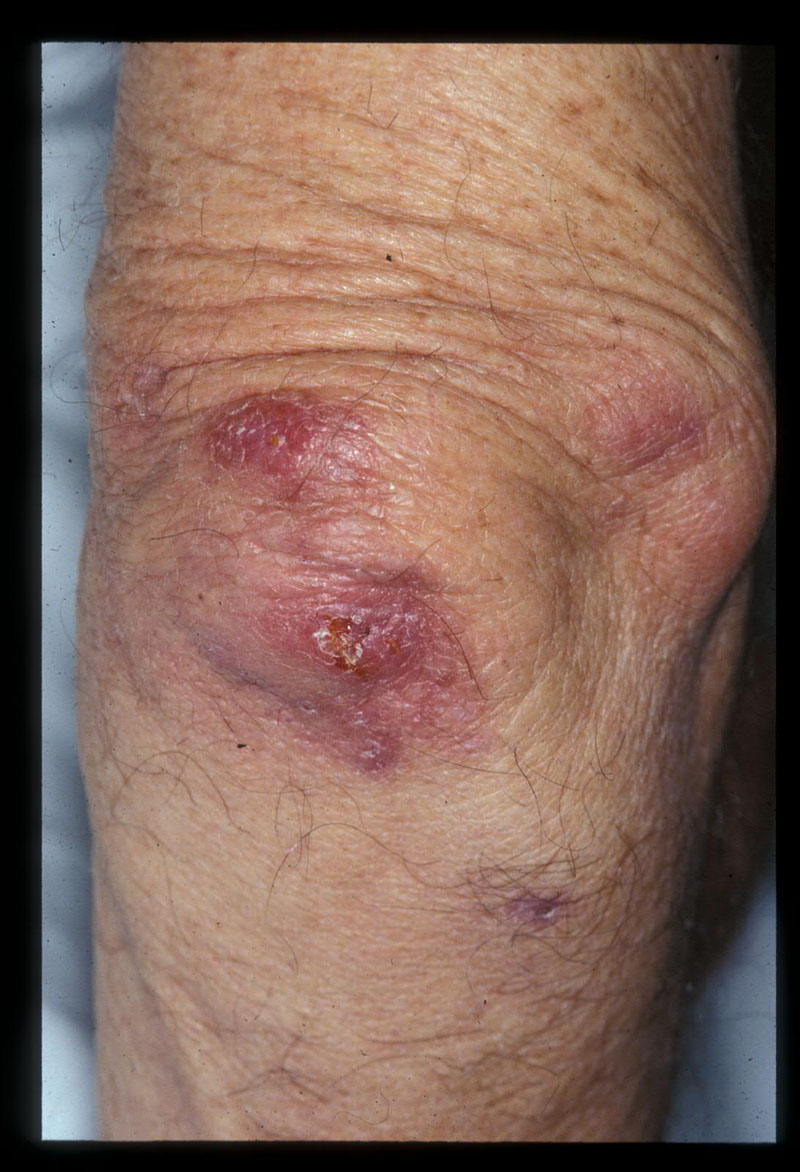 Characteristic findings on physical examination
Characteristic findings on physical examination include small papules with a propensity for the extensor aspects of the fingers and hands, elbows or knees. These papules are often referred to as Churg Strauss papules but are not entirely specific for CGV, as they can be seen in Wegener's granulomatosis (WG) and other disorders at times. Palpable purpura, nodules and livedo can also be seen in the skin of CGV patients, most often involving the lower extremities. Persistent urticarial lesions can be located on the truncal area, head and neck or extremities.
Expected results of diagnostic studies
Diagnostic studies most often show an elevated eosinophil count and serum IgE. Depending on organ involvement, there may be fever, arthralgias or peripheral edema. Pulmonary infiltrates are commonly seen. Other organs may be involved including the nervous system with mononeuritis multiplex as a characteristic finding. Systemic abnormalities can include renal dysfunction and less commonly cardiac dysfunction.
Diagnosis confirmation
Diagnosis confirmation rests upon careful clinical and pathologic correlation. The definition of CGV includes antecedent asthma, eosinophilia, allergic rhinitis/sinusitis or polyposis, pulmonary infiltrates, mononeuritis multiplex and biopsy confirming vasculitis (Figure 2 and Figure 3). Most often four of these six criteria must be present over time.
Figure 2.
Palisaded granulomatous inflammation in Churg-strauss (H&E, X10)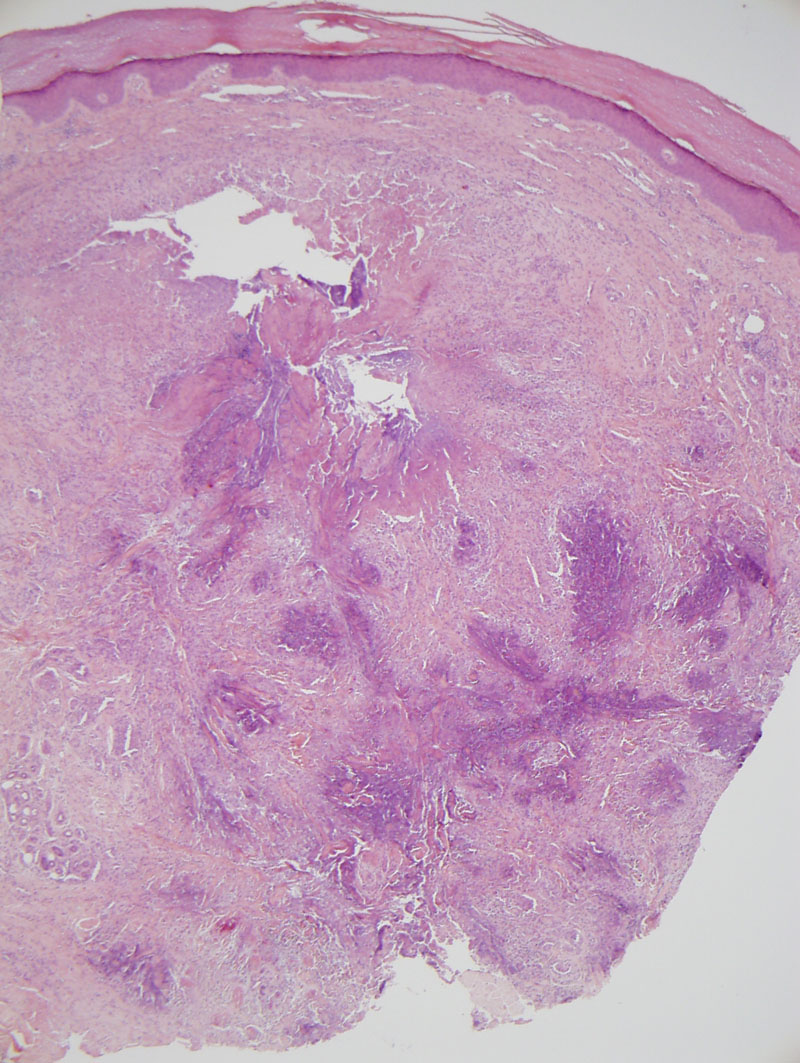 Figure 3.
Higher-power view showing basophilic necrosis in the dermis and surrounding granuloma. (H&E, X40)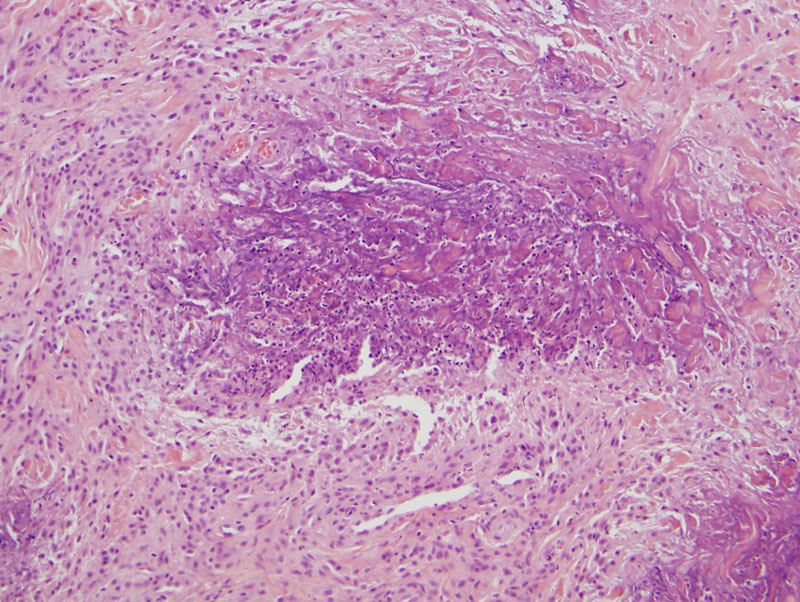 Antineutrophil cytoplasmic antibody tests (ANCA) may be positive (approximately 50%), typically not the Proteinase 3-cytoplasmic ANCA (c-ANCA/PR3) seen in WG but most often the perinuclear pattern (p-ANCA) and may react with myeloperoxidase (MPO). Pulmonary nodules are more often seen in WG than in CGV as "patchy" pulmonary infiltrates are more often seen in CGV. Palpable purpura with the corresponding microscopy of leukocytoclastic vasculitis (LCV) may be seen in WG and CGV.
The characteristic CGV papule microscopically shows foci of degeneration of collagen surrounded by dust and debris typical of collagen damage by eosinophil degranulation surrounded in turn by a histiocytic infiltrate. CGV may show more eosinophilic change when compared to WG but this is not an absolute criterion for differentiation and requires clinical correlation. As is true with all forms of vasculitis and especially with granulomatous vasculitides, infection must always be considered in the differential diagnosis and appropriate tissue and serum studies should be done to exclude infection.
Who is at Risk for Developing this Disease?
Churg Strauss disease is thought to represent an autoimmune process developing in those at risk. Most often patients have had "allergic" diseases with increase in eosinophils prior to onset, including asthma, allergic rhinitis, nasal polyps and sinus or upper respiratory infections. Adults of both genders are most often affected, with the average age at onset in the late 40s.
What is the Cause of the Disease?
Etiology
The etiology is likely an autoimmune and genetic diathesis combined with certain infectious and allergic illnesses characterized by elevated eosinophils and IgE.
Pathophysiology
Pathophysiology is linked most closely to other antineutrophil cytoplasmic antibody (ANCA) associated disease. CGV most often involves the upper airways and the lungs and tends to be associated with eosinophilia and less often presents with renal disease when compared to WG or microscopic polyangitis (MPA). Immune complex deposition, proinflammatory chemokines and cytokines and direct damage to affected blood vessels and tissue by degranulation and release of eosinophilic contents all play a role in pathogenesis.
Systemic Implications and Complications
Associated systemic disorders are frequent and include pulmonary infiltrates (more so than nodules), upper airway disease including polyposis of the sinuses, nervous system disease, gastrointestinal and renal disease, cardiac disease and eye involvement in descending order of frequency. Initial tests include a complete blood count (CBC) with differential count, serum IgE level, erythrocyte sedimentation rate (ESR), C-reactive protein (CRP), serum antineutrophilic cytoplasmic antibodies (ANCA), chest x-ray, blood chemistry tests, urinalysis with microscopy. Further evaluation most often requires imaging of the chest and most often direct imaging by endoscopy of the upper airways and bronchi.
Cardiac function evaluation is important as cardiac involvement and damage are more commonly seen in CGV than in WG and may portend a poorer prognosis. Biopsy of affected organs may lead to confirmation of the diagnosis and skin biopsy may be very helpful if involved. Biopsies of affected organs may be required to confirm the diagnosis. Infection as a possible cause of patient symtoms and signs or resulting as a complication of therapy must always be considered. Appropriate cultures and tests must be done to rule out infection.
Treatment Options
Once the diagnosis has been confirmed the treatment of CGV requires a coordinated effort amongst specialists who are both familiar with the disease and with the various organs involved. Sytemic therapy is required to bring the disease into remission as quickly as possible to limit organ damage and to induce remission. Skin lesions most often respond in parallel to improvement in other organs.
Topical therapy may be of help in those patients with ulcerations or painful skin lesions to reduce pain, prevent secondary infection and hasten the healing process. Antiseptic wet compresses may be useful in patients with ulcerated skin lesions. CGV papules may not require specific topical therapy.
Systemic corticosteroids comprise the mainstay of therapy for CGV, doses similar to those used in WG, 1 mg/Kg/day, and with slow taper over months depending on response. Cyclophosphamide may be used in patients with more severe disease, in those with consequential multiple organ involvment or in those not responding to prednisone alone.
Optimal Therapeutic Approach for this Disease
Therapy requires a thorough assessment of organ involvement and a coordinated approach in concert with those specialists familiar with the disease. CGV like WG can be a fatal disease and requires expert care.
Prednisone is most often used as the first-line therapy for CGV. Cyclophosphamide may be added if needed or required according to severity of organ involvement. Mycophenolate mofetil has been shown to be effective in some forms of ANCA associated vasculitis and other larger controlled trials are underway.
Recent studies have looked at Rituximab in addition to or as an alternative to intravenous or oral cyclophosphamide in ANCA-associated vasculitis. Rituximab was given in a doseage of 375mg/m2 once weekly for 4 weeks. Patients in the Rituximab arm did as well as patients in the arm where both drugs were given, suggesting that Rituximab could be an alternative treatment for induction of remission in patients with severe disease. Prednisone is most often used as the first-line therapy for CGV. Cyclophosphamide may be added if needed or required according to severity of organ involvement.
Patient Management
Management requires follow-up of the clinical abnormalities noted at the time of diagnosis, primarily pulmonary parameters and function. Skin lesions tend to respond along with improvement in other organ systems.
Unusual Clinical Scenarios to Consider in Patient Management
Management of airway disease and pulmonary function is critical. Asthmatic symptoms may be difficult to control and require expert guidance and followup. Diabetes or secondary infection may develop as a result of the medications used to treat the disease and close monitoring for such complications is essential.
What is the Evidence?
Guillevin, L, Cohen,, P, Gayraud, M, Lhote, F. "Churg-Strauss syndrome, clinical study and long-term follow-up of 96 patients". Medicine (Baltimore). vol. 78. 1999. pp. 26-37.
(A classic reference cited in most reviews on the topic giving a good idea of the various clinical manifestations of the disease.)
Crotty, CP, DeRemee, RA, Winkelmann, RK. "Cutaneous clinicopathologic correlation of allergic granulomatosis". J Am Acad Dermatol . vol. 5. 1981. pp. 571-81.
(Another classic reference often cited in reviews discussing the clinical and microscopic patterns of patients with skin lesions who are diagnosed with Churg-Srauss vasculitis.)
Davis, MDP, Daoud,, MS, McEvoy,, MT, Su, WPD. "Cutaneous manifestations of Churg-Strauss syndrome: a clinicopathologic correlation". J Am Acad Dermatol . vol. 37. 1997. pp. 199-203.
(A more updated review of the skin findings including pathology of patients diagnosed with Churg-strauss vasculitis.)
Gibson, LE. "Cutaneous vasculitis update". Dermatol Clin. 2001. pp. 603-15.
(A review of the clinical presentations of cutaneous vasculitis based primarily on clinical and pathologic correlation. Tests helpful in the diagnosis are discussed, including immunofluourescence.)
Finan, MC, Winkelmann, RK. "The cutaneous extravascular necrotizing granuloma (Churg-Strauss granuloma) and systemic disease: a review of 27 cases". Medicine (Baltimore). vol. 62. 1983. pp. 142-58.
(A classic reference detailing the various diseases where the extravascular necrotizing granuloma can be seen in addition to Churg-Strauss vasculitis.)
Langford CA and Specks, U, Gibson, GJ. "Wegener's granulomatosis and other vasculitides". Respiratory medicine. Saunders Elsevier Science Limited. 2003. pp. 1621-42.
(A very good discussion of the clinical features, including complications, the pathophysiology and treatment of several ANCA-associated vasculitides including Churg-Strauss and Wegener's granulomatoses.)
Bosco L Peroni, A, Schena, D, Colato, C, Girlomoni, G. "Cutaneous manifestations of Churg-Strauss syndrome: report of two cases and review of the literature". Clin Rheumatol. 2010 Oct 15.
(One of the most up to date references on the the skin lesions seen in patients with Churg-Strauss vasculitis, including cases and a review.)
Chen, M, Kallenberg, CG. "ANCA-associated vasculitides-advances in pathogenesis and treatment". Nat Rev Rheumatol . vol. 6. 2010. pp. 653-64.
(A very up-to-date review of the clinical features, differential diagnoses, pathopysiology, and treatment of ANCA-associated illnesses. Recent therapeutic trials are summarized and referenced.)
No sponsor or advertiser has participated in, approved or paid for the content provided by Decision Support in Medicine LLC. The Licensed Content is the property of and copyrighted by DSM.
Sign Up for Free e-newsletters
NEPHROLOGY & UROLOGY NEWS