October 08, 2015
NIH Blood Pressure Trial Is a Game Changer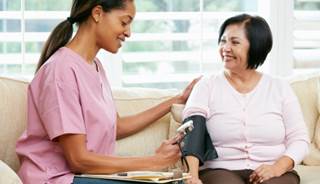 Blood pressure control for ESRD
Wow! This is the first word I think of to describe the recent announcement of the early termination of the Systolic Blood Pressure Intervention Trial (SPRINT) sponsored by the National Institutes of Health (NIH).
The study began in the fall of 2009 and included more than 9,300 participants aged 50 years and older from about 100 medical centers in the United States and Puerto Rico. The study specifically excluded individuals with diabetes mellitus, prior stroke, and polycystic kidney disease. Patient inclusion criteria included a systolic blood pressure (BP) greater than 130 mm Hg and one of the following: a history of cardiovascular disease or subclinical cardiovascular disease, an estimated glomerular filtration rate of 20–59 mL/min/1.73 m2 or age 75 years or older, or a 10-year Framingham cardiovascular disease risk score greater than 15%.
The trial looked at a target systolic BP of 120 mm Hg versus 140 mm Hg. The results were impressive: The risk of death was decreased by almost 25%, and the risk of cardiovascular events was decreased by almost one-third. This is clearly a landmark trial that will have a clinical impact similar to that of earlier studies of ACE inhibitors in diabetic nephropathy.
A press release issued by the NIH gives us reason for enthusiasm, but we must learn more about the results before we apply them to our clinical practice. It will be especially important for nephrologists to see treatment effects specifically in the large subgroup with chronic kidney disease as compared to the elderly subgroup.
Application of what we learn from this trial will improve the health of our patients but also make our jobs quite a bit harder. Achieving a systolic BP less than 120 mm Hg requires more medication, better balancing of side effects, and more careful evaluation of patients to avoid hypotension. I think it will be difficult to attain this goal without having patients measure their BP frequently at home and being more involved in their care. SPRINT included individuals who were motivated to be in a clinical trial; many of our patients will not have the same enthusiasm, and we will have to inspire them as well.
Congratulations! This is the second word I think of when I think of SPRINT. Congratulations to the many patients and investigators (including my colleagues here at Wake Forest and many readers of Renal & Urology News) who worked over the past 5 years on this important trial. The results will have a tremendous impact on the health of millions of patients.
Anthony Bleyer, MD, MS Professor of Internal Medicine/Nephrology Wake Forest University School of Medicine Winston-Salem, N.C.