January 29, 2014
Reduced Kidney Function Linked to Rheumatoid Arthritis
The presence of CVD in RA patients increases their risk of impaired renal function.
Reduced kidney function is more likely to develop in patients with rheumatoid arthritis (RA) than individuals without RA, a recently published study suggests. Cardiovascular disease (CVD) and associated factors appear to have a role.
"The presence of RA in individuals with reduced kidney function may lead to an increase in morbidity from CVD development, for which awareness may provide a means for optimizing care," investigators concluded.
LaTonya J. Hickson, MD, of Mayo Clinic in Rochester Minn., and colleagues compared with 813 patients with RA and 813 non-RA individuals. The researchers defined reduced kidney function as an estimated glomerular filtration rate (eGFR) below 60 mL/min/1.73 m2. They also examined the effect of more advanced renal impairment (eGFR below 45).
The 20-year cumulative incidence of an eGFR below 60 was significantly higher in RA than non-RA subjects (25% vs. 20%), but the 20-year cumulative incidence of an eGFR below 45 was not significantly different (9% vs. 10%), Dr. Hickson's group reported in the American Journal of Kidney Diseases (2014;63:206-213).
In RA patients, the presence of CVD at baseline was associated with a 77% increased risk of an eGFR below 60. An elevated erythrocyte sedimentation rate, obesity (body mass index [BMI] of 30 kg/m2 or higher), and dyslipidemia also were associated with an increased risk of an eGFR below 60.
An eGFR below 60 was not associated with a significant increased risk of CVD development in patients with RA, but a greater reduction in GFR (eGFR below 45) was associated with a significant 93% increased risk of CVD.
Some characteristics were associated with a decreased likelihood of developing reduced kidney function, including a BMI below 20 and use of non-steroidal anti-inflammatory agents (NSAIDs). The investigators found no association between use of NSAIDs and development of CVD, hypertension, or diabetes during follow-up.
"A combination of RA disease characteristics and CVD-associated factor appear to play a role in reduced kidney function development," Dr. Hickson's team concluded.
Additionally, they noted that RA disease did not appear to affect survival among patients in whom reduced kidney function developed. RA disease in patients with reduced kidney function may lead to an increase in morbidity from CVD development, primarily among individuals who have advanced kidney disease.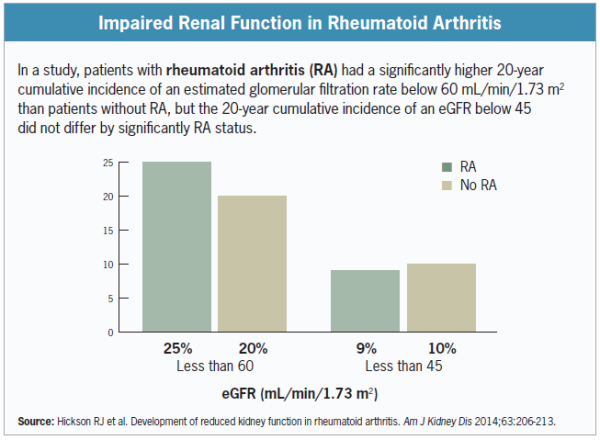 "Based on these findings," the authors concluded, "therapeutic strategies to modify nontraditional risk factors for CVD and consistent kidney function monitoring when appropriate may be used to minimize the risk of reduced kidney function and subsequent complications, including CVD and death, in our RA population."
During follow-up, 392 patients died—229 with and 163 without RA. An eGFR below 60 was associated with increased risk of death in both groups, but the effect of an eGFR below 60 on mortality was significantly less in RA patients, the researchers found.
Additionally, an eGFR below 45 was associated with a nearly twofold increased risk of developing CVD among RA patients, but had no significant effect on CVD risk in non-RA patients.