March 04, 2015
Diagnosing and Managing Low Testosterone in CKD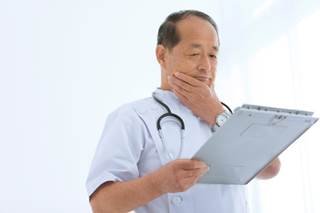 Low testosterone in men with CKD should not be treated routinely, but can be considered on an individual basis in some cases.
The prevalence of testosterone deficiency is reported to be 40%–60% among men on dialysis. Although there is insufficient information regarding the prevalence of testosterone deficiency in men with non-dialysis dependent chronic kidney disease (CKD), it appears to increase as renal function declines. Testosterone deficiency is associated with higher levels of inflammatory markers (interleukin-6, C-reactive protein) and also with all-cause and cardiovascular (CV)-related mortality among patients with end-stage renal disease. With this in mind, consensus on the diagnosis and management of testosterone deficiency in CKD patients remains important and is still evolving.
Most testosterone in the circulation is bound to sex hormone-binding globulin (SHBG) or to albumin, with approximately 0.5%–3% present as free testosterone, the biologically active hormone. Under most circumstances, measuring total testosterone is adequate for diagnosing testosterone deficiency. Total testosterone, however, can provide inaccurate estimates of bioactive testosterone in situations where SHBG values are altered, including several that are common among patients with CKD. Specifically, SHBG concentration may be low in patients with obesity, diabetes, and nephrotic syndrome and may be high in older patients. The Endocrine Society suggests measuring free testosterone levels in some men where total testosterone concentrations are near the lower limit of normal but alterations of SHBG are suspected.
Diagnosis
The diagnosis of hypogonadism is usually based on at least 2 consecutive morning (when levels are highest) low serum testosterone levels in conjunction with clinical symptoms.3 Because serum testosterone concentrations decline with age, some argue that the reference range should be age-specific. For example, consider 2 studies that measure testosterone in young and elderly men. Bhasin et al. found the 2.5th percentile of total testosterone to be 348.3 ng/dL in a sample of young men compared with 184 ng/dL for a sample of elderly men studied by Yeap et al.5 Therefore, using the standard reference range could lead to over diagnosis in the elderly population if symptoms are not considered as part of the diagnosis.
Symptoms
The diagnosis of hypogonadism is challenging because the signs and symptoms are non-specific and can vary based on age and comorbidities. Common symptoms that should be clearly defined include decreased libido, or the lack of sexual desire, and erectile dysfunction, the inability to acquire or maintain an erection needed for sexual intercourse. Other relatively specific signs include gynecomastia, loss of body hair, shrinking of testes, low sperm count, low bone mineral density, and hot flushes. Less specific symptoms include decreased energy, motivation, self confidence, depressed mood, poor concentration and memory, sleep disturbances, anemia, reduced muscle mass and strength, increased body fat and body mass index, and decreased physical performance. Therefore, a thorough history and physical examination should be performed to assess for these signs and symptoms.
Testosterone replacement
Clinical observations have suggested that low testosterone levels may have several adverse consequences, but the effect of testosterone replacement remains unclear. Trials have been limited by small sample size, different inclusion criteria, and variable testosterone regimens. There are even fewer data for the CKD population, so extrapolation from the general population is often necessary.
Sexual function
In the general population, a meta-analysis of 17 randomized controlled trials of testosterone replacement with 862 participants showed moderate improvements in libido with only a small effect on erectile dysfunction.6 In addition, 2 small studies that evaluated effects of testosterone on sexual function in ESRD patients found that most patients experienced improvement in but not normalization of sexual function.
Physical function
Although not specifically aimed at patients with hypogonadism, there have been a few trials evaluating the effects of androgen therapy on physical function in patients with ESRD. In 1 study, researchers showed that administration of nandrolone deconate, a synthetic testosterone derivative, improved physical performance and increased lean body mass.9 In addition, studies of testosterone replacement among elderly men have generally shown improvement in the lean body mass, strength and physical function.
Bone mineral density
Studies of the effects of testosterone on outcomes related to bone mineral density in patients with CKD are also limited, but some data are available in the general elderly population. Although results of these studies are mixed, improvements are more pronounced for patients with lower pre-treatment testosterone levels. Given that the causes of bone disease in patients with CKD are multifactorial, with secondary hyperparathyroidism as a major underlying mechanism, it may not be reasonable to generalize from the general elderly population to the CKD population.
Adverse effects
Treatment with testosterone has known side effects, which include acne, male pattern baldness, gynecomastia, as well as more serious side effects, such as worsening sleep apnea, adverse CV outcomes, and accelerated growth of prostate cancer. With regard to CV outcomes, in a meta-analysis of 51 clinical trials, testosterone treatment was not associated with higher CV risk.14 Other evidence has been more concerning, however. A randomized controlled trial evaluating testosterone treatment in elderly men with mobility limitations and chronic disease was halted due to adverse CV events in the testosterone group.
In addition, 2 retrospective studies showed a higher risk of myocardial infarction (MI) in patients treated with testosterone, although the absolute risks were low.16,17 These retrospective studies were limited by the lack of available data on total testosterone concentrations and the indications for, and doses of, testosterone treatment. As yet, the FDA has not concluded that testosterone therapy increases the risk of MI or mortality; however, it warns clinicians to be aware of the concerns while investigations are underway.
Conclusion
Given the possible risk, especially among CKD patients who are already at high risk of cardiovascular disease, low testosterone levels should not be routinely treated among patients with CKD. However, treatment can be considered on an individual basis in symptomatic patients with poor physical function, fracture risk, and documented low testosterone levels. Patients receiving testosterone replacement therapy should be reassessed frequently, and therapy should be discontinued if benefit is not observed after a 3- to 6-month trial.