August 26, 2015
Statins Increasingly Prescribed for Primary Prevention in Elderly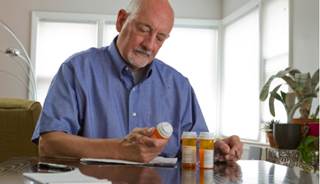 But researchers note little evidence exists on the benefits and dangers of doing so.
(HealthDay News) -- There has been a sharp rise in the use of statins among elderly patients who do not have vascular disease, but there is little research to guide the use of these medicines in this group of patients, according to a research letter published online in JAMA Internal Medicine.
Michael E. Johansen, M.D., of The Ohio State University College of Medicine in Columbus, and Lee A. Green, M.D., M.P.H., of the University of Alberta in Edmonton, Canada, analyzed data from 13,099 people who took part in an annual national survey between 1999 and 2012.
Rates of vascular disease among the very elderly population rose from 27.6% in 1999-2000 to 43.7% in 2011-2012, but this increase was believed to be related to survey methods. Over the same period, statin use for primary prevention rose from 8.8 to 34.1%.
"We observed an increasing trend in statin use in both primary and secondary prevention, but didn't find that high potency statin use was associated with vascular disease," Johansen said in a university news release.
Source