May 22, 2015
Smartphone ECG App Identifies Atrial Fibrillation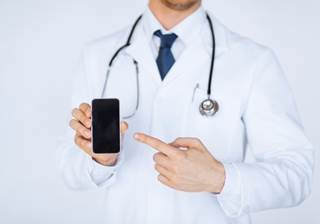 Researchers say smartphone apps can work for atrial fibrillation screening.
(HealthDay News) -- Smartphones could help improve detection and management of atrial fibrillation, researchers say. The findings were presented at the annual meeting of the Heart Rhythm Society.
The researchers gave 865 study participants smartphone-enabled electrocardiogram (ECG) sensors. Heart activity was recorded at 30-second intervals and transmitted to a secure cloud-based server.
Over 6 months, the participants transmitted 57,703 ECGs. Atrial fibrillation was detected in 185 recordings and in 11% of the participants.
"Having an ECG device on smartphones is quite incredible because it makes tracking heart health and behavior accessible to almost anyone," lead author Leslie Saxon, M.D., executive director of the University of Southern California Center for Body Computing in Los Angeles, said in a Heart Rhythm Society news release. Not only does this type of smartphone app allow the patient to be more informed, it also gives doctors the ability to access and analyze real-world data, she added. Ultimately, this can "help improve treatment and overall quality of care," she said.
Source