July 06, 2015
Pharmacist-Managed Warfarin Treatment Superior to Usual Medical Care
This article originally appeared
here.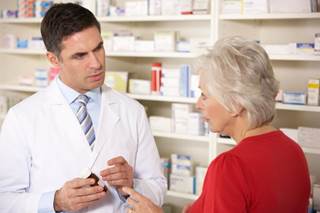 Percentage of time in therapeutic range, major bleeding events, hospitalization all in favor of Pharmacist-Managed Warfarin Therapy.
(HealthDay News) -- Pharmacist-managed warfarin therapy (PMWT) is superior to a usual medical care (UMC) model for management of warfarin therapy, according to a systematic review published online in the Journal of Clinical Pharmacology.
Taher Entezari-Maleki, Pharm.D., from the Tabriz University of Medical Sciences in Iran, and colleagues conducted a systematic review comparing PMWT with UMC regarding control of anticoagulation, bleeding and thromboembolic events, mortality, hospitalization, emergency department visits, patient satisfaction, and quality of life. 24 studies (4 randomized controlled trials [RCTs] and 20 non-RCTs) involving 11,607 patients were reviewed.
The researchers found that the percentage of time in therapeutic range (72.1 versus 56.7%), major bleeding events (0.6 versus 1.7%), thromboembolic events (0.6 versus 2.9%), hospitalization (3 versus 10%), and emergency department visits (7.9 versus 23.9%) were all significantly in favor of PMWT in the non-RCT studies. For cost-saving and patient satisfaction, the review also supported PMWT.
"The results showed that PMWT model is superior to UMC in managing warfarin therapy based on observational studies," the authors write. "As well, it is comparable to UMC based on RCT studies."
Source