December 04, 2015
Transfusion, Mortality Link Varies With Hemoglobin, Heart Disease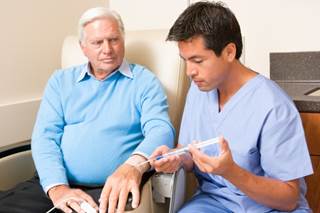 For ICU patients, hemoglobin level thresholds vary with presence of comorbid heart disease.
(HealthDay News) -- For critically ill patients, the impact of transfusion on mortality varies with hemoglobin (Hgb) levels and with the presence of comorbid heart disease, according to a study published in the Journal of the American College of Cardiology.
Yew Y. Ding, MBBS, MPH, from the Tan Tock Seng Hospital in Singapore, and colleagues performed secondary data analyses of Veterans Affairs intensive care unit (ICU) episodes across 5 years. Logistic regression was used to quantify the effect of transfusion on hospital mortality.
The researchers found that 12.4% of the 258,826 ICU episodes involved transfusions; hospital death occurred in 11.6% of episodes. Transfusion correlated with decreased adjusted hospital mortality without comorbid heart disease when Hgb was approximately <7.7 g/dL; above this Hgb level, transfusion increased mortality. When comorbid heart disease was present, corresponding Hgb level thresholds were approximately 8.7 g/dL and approximately 10 g/dL when the ICU admission diagnosis was acute myocardial infarction. These thresholds were lowered by about 1 g/dL in sensitivity analyses using additional adjustment for selected blood tests in a subgroup of 182,792 ICU episodes.
"Transfusion of critically ill patients was associated with reduced hospital mortality when Hgb level was <8 to 9 g/dL in the presence of comorbid heart disease," the authors write.
Source
Ding YY, Kader B, Christiansen CL, and Berlowitz DR. Hemoglobin Level and Hospital Mortality Among ICU Patients With Cardiac Disease Who Received Transfusions. J Am Coll Cardiol. 2015;66(22):2510-2518. doi:10.1016/j.jacc.2015.09.057.