May 17, 2015
Surgical Margin Status Has No Effect on PCa Patient Survival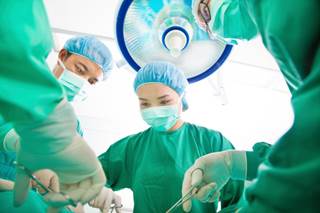 Researchers concluded that margin status is a surrogate for established risk criteria.
NEW ORLEANS—Positive surgical margins (PSMs) alone do not influence overall survival among prostate cancer patients undergoing radical prostatectomy (RP), investigators reported at the American Urological Association annual meeting.
Alexa Meyer, MD, and collaborators at Columbia University in New York identified 3,252 patients who underwent RP. The group included 830, 1,746, and 676 patients with low-, intermediate-, and high-risk disease, respectively. The median follow-up was 94.2 months.
While the overall PSM rate was 26.8%, it was 14.6%, 27.5%, and 39.9% in the low-, intermediate-, and high-risk groups, respectively. The overall median survival was significantly lower for the PSM than the negative margin group (20.14 vs. 20.58 years). The median survival also differed significantly among the 3 risk groups. It was 20.33 and 19.52 years for the intermediate- and high-risk groups, respectively, and was not yet reached for the low-risk group. Within each risk group, however, PSMs had no impact on survival.
When controlling for adverse features, PSMs are not independently associated with survival, the researchers concluded in a poster presentation. "This suggests that margin status is a surrogate for established risk criteria and disease biology, and should not be interpreted as a unique prognostic factor."