May 19, 2015
Early ADT for Recurrent Prostate Cancer May Hike Death Risk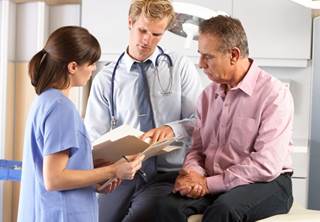 This effect appears to occur mainly in men who experience recurrence when they are younger than 65 and in those with low-risk cancer.
NEW ORLEANS—Early androgen deprivation therapy (ADT) may increase the risk of death among men who receive it after experiencing biochemical recurrence (BCR) of prostate cancer following radical prostatectomy, according to study data presented at the 2015 American Urological Association annual meeting.
This adverse effect appears to be limited to men younger than 65 years when they experience BCR and those with low-risk disease, reported a research team led by Stephen J. Freedland, MD, of Cedars-Sinai Medical Center in Los Angeles.
Dr. Freedland and his colleagues retrospectively analyzed data from 468 patients who experienced BCR after RP. The median follow-up after BCR was 70 months. Of the 135 men who received early ADT (defined as receipt of ADT when PSA levels were less than 5 ng/mL), 42 died. In adjusted analyses, early ADT was associated with a significant 68% increased risk of death compared with the 333 men who received conventional therapy (no ADT or ADT started when PSA levels were 5 ng/mL or higher). When the researchers stratified the men by age, early ADT was associated with a significant 5.6 times increased risk of death compared with conventional therapy among men younger than 65 years and a significant 61% decreased risk among those aged 65 years and older.
Early ADT was associated with a significant 3.2 times increased mortality in patients with low-risk disease, but did not significantly affect survival in those with high-risk disease.
Finally, data suggest that men with a PSA doubling time of less than 9 months fared better with early ADT, whereas those with longer PSA doubling times fared worse.
In a poster presentation, Dr. Freedland's team concluded that the "risks and benefits of ADT must be weighed and taken into account when deciding timing of treatment." Whether the harmful effect of early ADT is due to true harm, treatment bias, or unmeasured confounding is not known, they noted.
Dr. Freedland told Renal & Urology News, "These data support other recent data that ADT can come with a price, and is not appropriate for all men and should be used selectively for those men at the highest risk of death from prostate cancer."