October 13, 2015
Buffered Crystalloid Solution Doesn't Cut AKI Risk
This article originally appeared
here.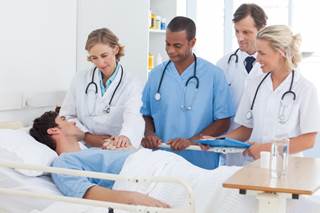 Risk of developing acute kidney injury similar with buffered crystalloid, saline.
(HealthDay News) -- Among patients receiving crystalloid fluid therapy in the intensive care unit (ICU), the risk of acute kidney injury is similar for buffered crystalloid versus saline, according to a study published online in the Journal of the American Medical Association. The research was published to coincide with the annual meeting of the European Society of Intensive Care Medicine, held from Oct. 3 to 7 in Berlin.
Paul Young, M.B., Ch.B., from the Medical Research Institute of New Zealand in Wellington, and colleagues conducted a randomized trial in 4 ICUs involving 2,278 eligible patients requiring crystalloid fluid therapy. Overall, 1,152 patients receiving buffered crystalloid and 1,110 patients receiving saline were analyzed. Participating ICUs were assigned to either saline or buffered crystalloid for alternating 7-week treatment blocks; two crossovers occurred during the study.
The researchers found that 9.6 and 9.2% of patients developed AKI within 90 days after enrollment in the buffered crystalloid and saline groups, respectively (relative risk [RR], 1.04; 95% confidence interval [CI], 0.80 to 1.36). Renal replacement therapy was used in 3.3 and 3.4% of patients in the buffered crystalloid and saline groups, respectively (RR, 0.96; 95% CI, 0.62 to 1.50). Overall, 7.6 and 8.6% of patients, respectively, died in the hospital (RR, 0.88; 95% CI, 0.67 to 1.17).
"Further large randomized clinical trials are needed to assess efficacy in higher-risk populations and to measure clinical outcomes such as mortality," the authors write.
Several authors disclosed financial ties to the pharmaceutical and medical device industries.
Sources
Young, P; Bailey, M; Beasley, R; et al. JAMA published online October 7, 2015; doi:10.1001/jama.2015.12334.